ITV - Gameshow Marathon
15/03/07 16:11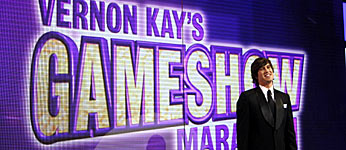 For the 3rd season running we've been commissioned by ITV to re-record the original show's music for this series.

Many of these old shows were made by small production companies that are no longer in existence, so much of the music has been lost. We've gone back to video tapes of the shows in order to dictate, and then re-record it.

To date we've covered Blankety Blank, Blind Date, Blockbusters, Bullseye, Family Fortunes, Golden Shot, Mr & Mrs, Name That Tune, Play Your Cards Right, Sale Of The Century, Take Your Pick and The Price Is Right!

The goal was for it to be as close sounding to the original music as we could get it, and so far, no one has noticed that it isn't the original music playing!